This is NOT the official City of Newburyport Website.
Below IS the official site:
https://www.CityOfNewburyport.com
This is an unofficial page that was put together by Sharif Zeid, Ward 1 City Councillor, in an effort to pull information together into a single, easy-to-read page.
If you're able, please consider supporting local businesses by buying a gift card or using curbside pickup, if offered.
Local business status being updated on another site (not mine):
https://helpnbpt.com
This page was last updated:
3/30/20 4:17 PM
City and Community Services
If you want to see things by date click here, that way you can tell what has changed/been added a bit easier.

Green means fully or nearly fully operational
Yellow means less than full operations (e.g. partial closure or substantial changes)
Red means closed
Gray means informational

These are general categories, it's hard to precisely define some of these.
The Governor has issued a stay-at-home order starting 3/24/20 at noon and going through 4/7/20. According to the order, all nonessential businesses will close.

Public transportation, grocery stores and pharmacies to remain open.

Here is the order: CLICK HERE
Here is a list of "essential services": CLICK HERE
Guidance on assemblies: CLICK HERE
On 3/25/20, the Governor indicated that schools, statewide, will be closed until May 4th, 2020.

Also, reusable shopping bags are banned during this emergency. All plastic-bag bans, statewide, are temporarily lifted.
FYI: Hydrant Flushing will start on March 30th, 2020.

Hydrants flusing is mandated by the state and is important to ensure that sediment is removed from water mains.

Check the City Website for neighborhoods being flushed as brown water or low pressure would be expected on that day.
EMERGENCY SERVICES – Police/Fire/EMS

Dial 9-1-1 for emergencies

See below in yellow for non-emergency situations.
Water and Sewer Plants
While fully operational, these facilities will not be open to the public.
Trash and Recycling Curbside Pickup
Regular schedules

Trash MUST be in bags/bags MUST be in barrels.
Recycling MUST be in cart or a bin (loose inside of cart/bin). Bin means something like the old blue recycling bins.

NOTHING loose will be picked up, including loose cardboard.

If you have loose cardboard or household trash, you can take it to dumpsters that will available at 59 Low St between 12-3pm M-F. This is the building NEXT to the National Guard and ACROSS from the Nock Molin School. This is for Newburyport residents only and the dumpsters will be monitored. No bulk waste, tires, etc.

Curbside leaf pick up will be held on May 2 and 16 for bagged leaves only.

See below for information on recycling center, delayed open on yard waste facility, etc.

City Sustainability Office: 978-499-0413
Missed Pickups: 978-352-858
Black Earth Composting Pickup
Per a Facebook post from Black Earth Compost, they plan to continue to do regular pickups in the City until/unless additional restrictions on placed.
State Senator Diana DiZoglio
Here is a statement from Sen. DiZoglio's Facebook Page:
"To ensure the safety of community members, as well as my team, we have decided to follow the guidance of health officials and will be limiting our interactions with community members at this time. My team and I remain committed to assist you during these trying times via email, phone and through social media."

You can contact Senator DiZoglio:
Phone: 978-984-7747
Email: Diana.DiZoglio@masenate.gov
State Representative James Kelcourse
Here is a statement from Rep. Kelcourse's Facebook Page:
"We know people have a lot of questions, so again, please feel free to call or text me on my cell (978) 590-7673 or email me at James.Kelcourse@MAhouse.gov. We can also be reached at our office at (617) 722-2130. Relief packages for employers and employees are coming and a system online will be activated soon for an emergency loan fun. Please contact us anytime and we will do everything we can to help you. Thank you."
Public Health Department
The Public Health Department is staffed but is not open to the public. If you have questions, please contact them directly:

Health Department:
Phone: 978-465-4410

Email: fgiacalone@CityofNewburyport.com
Police and Fire Non-Emergencies
All Police and Fire Department lobbies and stations are closed to the public, with the exception of the vestibule at the front entrance of the police station, for emergencies only. Residents are encouraged to call the departments' business lines for all non-emergency matters.

Police: 978-462-4411
(Police Department is the preferred contact for all non-emergencies)
Non-Emergency Fire: 978-465-4427
City Clerk Services
Open by email
Open by phone
Coordination available if in-person pickup or drop-off is required.

Residents are encouraged to try the City's online services.
To access online services: CLICK HERE.

More information: CLICK HERE.

City Clerk's Office: 978-462-4407
Email: clerk@cityofnewburyport.com
City Council
City Council has finalized a policy to minimize meetings and to hold meetings remotely until further notice. Meetings will continue to be posted on the City Website along with details on any business that will be taken up. Principally, the Council has agreed to minimize the work taken up to essential and time-sensitive items only.

The Chair of the Planning and Development committee has made clear that there is no intention to take up Short Term Rental Legislation anytime soon.

Contact info for Councillors
Department of Public Services/Works
As of 3/17, DPS' offices on Perry way will be closed to the public but DPS is still available to assist with questions or needs if you contact them by phone or email.

DPS/DPW: 978-465-4464 ext 1701
Email: dps@cityofnewburyport.com
Other City Departments
You can find contact information for all departments here:
https://www.cityofnewburyport.com/departments

You should contact the department you need assistance from by phone or email. Please note that City Staffing in all departments have been significantly reduced. Keep this in mind.

As City Hall is closed, in-person contact is effectively closed. If you have business that requires in-person contact, please call/email first and follow the instructions provided, which may include making an appointment or exchanging documents by some other means.
Jury Duty/Trial Court
Courts are closed except to emergency matters through at least April 6th, 2020. This means that if you have jury duty, you should call to check status.

"Courts will be closed to the public March 18, 2020 until at least April 6, 2020. The only matters that will be heard in-person in Massachusetts state courthouses are emergency matters that cannot be held by videoconference or telephone. Each of the seven Trial Court departments will define emergency matters for their departments in new standing orders that will be issued today."

Link:
https://www.mass.gov/news/supreme-judicial-court-issues-orders-to-protect-public-health-by-postponing-all-new-jury
and
https://www.mass.gov/alerts/supreme-judicial-court-restricts-court-appearances-to-emergency-matters
Senior Community Center
The Senior Community Center has been closed to the public as of 3/12.

* Meals on Wheels will continue to be distributed from the center and transportation for seniors. Volunteers are needed contact Derek Anderson @ Elder Services – 800-892-0890.
* The tax preparation assistance has been cancelled.
Playgrounds, Athletic Fields, Courts, Skate Park Closed

The City is closing all public athletic fields, courts, skate park and playgrounds.

You CAN walk through City parks just the above listed items are closed.
Inspectional Services
Building inspections including electrical, plumbing, and gas have been suspended for 2 weeks as of 3/17.

If there is an emergency need, please contact the building department:
Building Department
City Hall
Effective 3/17 at 8AM, City Hall will be closed to the Public. This closure is expected to be last through Monday March 30th, 2020.

The City website will remain operational.
Recycling Center and Yard Waste Facility

The Recycling Center on Colby Farm Lane will NOT be open on Mondays or Thursdays from 12.15-2.15 p.m. until we return to the normal schedule, tentatively Monday, April 6.

The Recycling Center on Colby Farm Lane will NOT be open the first Saturday of April. We are tentatively planning to reschedule the drop-off for the second Saturday on April 11 (8 am – 12 pm).

The yard waste facility will NOT be opening on March 31. The tentative opening date is now Tuesday, April 7.
Boards and Commission Meetings
The City Council has urged all boards and commissions to cancel all meetings at this time.

Click here for City Calendar
Youth Services and Learning Enrichment Center
All programming cancelled until further notice
Main Library and Emma Andrews Library
Closed until further notice
Schools
Closed through 5/4/20 per order of Governor Baker
Click for Governor's Order

Distribution of meals to families/students/seniors will begin Wednesday, March 18th and breakfast, lunch and snack items will be available for a grab-and-go bag to individuals and families from 10 am- Noon Monday through Friday via the Nock/Molin middle school parking lot by the loading dock.
Senior Volunteer Tax Work Off
Suspended until further notice.
Website about Local Business Offerings
Some great folks at The Newburyport Studio & Refinery43 have put up an awesome site explaining what local businesses are offering – many are offering curbside pickup and other things.

CLICK HERE

Grab and Go Meals & Our Neighbor's Table Grocery Pickup

Grab and Go Meals
Breakfast/lunch designed to last 5 days
Pick up Thursdays from 10a to 12p
Nock Middle School (70 Low St)

Our Neighbor's Table
Grocery Pickup
Pick on Thursdays from 10am to 12pm
Nock Middle School (70 Low St)

For both programs, we ask that you pull up curbside and the bag will be brought to your car. Please do not get out of your car. Building remains closed.

If you have any questions, please contact Pam Kealey, NPS Food Service Director via email at pkealey@newburyport.k12.ma.us
Resources for Renters and Homeowners who are struggling:

The Department of Housing and Community Development has a fund setup to help households who may face eviction, foreclosure, loss of utilities, and other housing emergencies.

See here for information and application:
https://www.mass.gov/info-details/covid-19-dhcd-website
If you are need of help with getting food for you and our family
1) You can contact 2gopantry@gmail.com or calling 781-223-2669. 2 Go Pantry can help set up a grocery delivery if you are unable to go to the pantry.

2) Our Neighbor's Table is providing updates on their status on their website: https://www.ourneighborstable.org/

Also, Our Neighbor's Table is maintaining a fantastic list of resources if you are in need of help securing food (this is an Excel Spreadsheet that you can download):
CLICK HERE

ONT has also recently created this sheet:

Local Pulse with Mayor Holaday on 3/20/20

If you'd like to listen:
https://www.newburyportnews.com/localpulse/

Please see Show #296
Mayor's Address – 3/19/20

Again, this is NOT the City's Official Website. That is available at https://www.CityOfNewburyport.com. With that said, the Mayor provided a Public Service Announcement on 3/19/20 and you can watch it below:
Market Basket Hours for Shoppers 60+
According to a tweet from Market Basket:

"Beginning Monday March 23, 2020, all Market Basket stores will be open every day from 7:00 AM – 6:00 PM.

Our senior shopping hours program WILL continue each Tuesday, Wednesday and Thursday from 5:30 AM to 7:00 AM where the stores will be open ONLY to serve customers 60 and older."

Twitter Link
Shaws Hours for Shoppers 60+
According to a tweet from Shaws: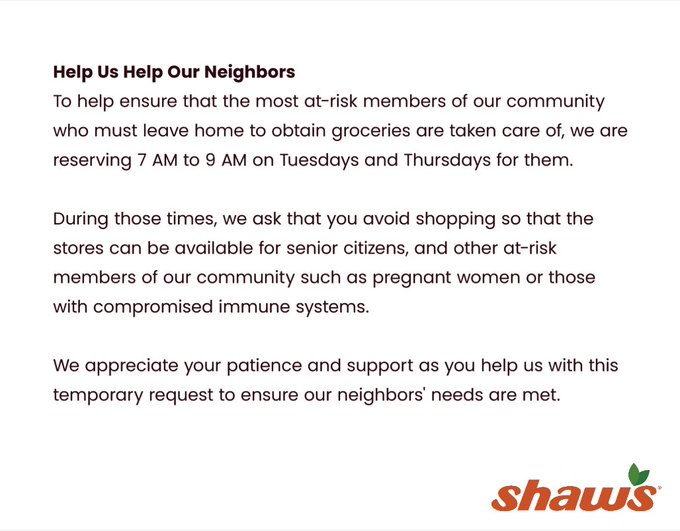 Twitter Link
Volunteer Coordination
Through Newburyport Youth Services, volunteers are being coordinated who can assist with things like dog walking, grocery delivery, and other such tasks for those in need.

If you can help or need help:
978-465-4434
youthservices@cityofnewburyport.com

You can also fill out a sign up for the Good Neighbors Help program by CLICKING HERE.
Collection of Donations
Newburyport Youth Services is also seeking donations of Gift Cards to Shaws, Market Basket, Stop and Shop, Walmart, etc. These gift cards would then be given to families that may be struggling during this time. If you purchase a gift card, you can leave it in the mailbox on the Brown School. They will be collected regularly throughout the day and distributed accordingly.

You can also buy an Amazon gift card and have it digitally delivered to aegmont@cityofnewburyport.com. These gift cards will be used to purchase things like diapers and wipes for families in need.
National Grid
National Grid will be suspending collections-related activities and shut-offs, per their website. This also means that you should beware of scams.

"We recognize that certain customers may experience financial difficulty as a result of the coronavirus outbreak, whether they or a family member fall ill, are required to quarantine, or because their income is otherwise affected. We hope to alleviate our affected customers' concerns about their electricity and natural gas service during this time. As a result, National Grid is temporarily suspending collections-related activities, including service disconnections, to lessen any financial hardship the COVID-19 pandemic may have on our customers. These policies are effective immediately and will be in place through the end of April. We will evaluate their continued need at that time. Please note that regular billing will continue for all customers."

Current Guidance
Click here to see COVID19 guidance from the State of Massachusetts:

CLICK HERE
Click here to see COVID19 guidance from the CDC on how to prepare:

CLICK HERE
Resources and Links
City of Newburport Official COVID19 Page
CLICK HERE
State of Massachusetts Official COVID19 Page
CLICK HERE
Centers for Disease Control COVID19 Official Page
CLICK HERE
Anna Jaques Hospital COVID19 Information
CLICK HERE
World Health Organization COVID-19 Myth Busters
CLICK HERE
Updates by date
3/30
• Link to open letter from AJH:
https://www.ajh.org/about/news/a-letter-to-our-community
3/26
• Be advised: hydrant flushing to begin on 3/30
3/26
• Noting that the State of NH has issued an order that all non-essential businesses to shut down Friday (3/27) at midnight. In addition, state beaches on the Seacoast will also be closed.
3/25
• Updated to-go meals which will be moving to Thursdays only (no more Mondays)
• Updated School Closure through 5/4 per Governor's Order.
• Added link to resources for homeowners/renters who may be struggling with foreclosure or eviction concerns.

See above.
3/24

No changes.
3/23
• Updated to include the Governor's Stay at Home Order
• Updated information on dumpsters available for recycling and household waste M-F 12 to 3pm at 59 Low St.
• Added information that reusable bags are now banned during the emergency and plastic bags are permitted.

See above.
3/22
• Updated information on trash/recycling nothing loose will be picked up. Everything must be in a barrel (trash in bag in barrel, recycling loose in cart)
• Added in information about availability of dumpsters at 59 Low St. for Newburyport residents
• Updated information about Market Basket hours
• Added updated information about Our Neighbor's Table curbside pick-up locations.
3/21
• Mayor has announced that the State's Department of Health has confirmed 3 cases of COVID-19 in the City. All 3 individuals and their families are currently in quarantine.
• Additional closures may be instituted next week
• Updated information on police/fire stations being closed to the public except for the PD front entrance for emergencies only.
• Added link to Local Pulse which had an interview with Mayor Holaday.
3/20:
No Changes
3/19:
• Added in details about 60+ shopping hours at Market Basket
• Added in information about Shaws' reserved shopping hours for those most vulnerable
• Added a new category for information (gray)
• Added information about Grab and Go Meals and Grocery pick from Nock
• Added in details about the need for volunteers for Meals on Wheels
• Added link at the top to HelpNBPT – please support local businesses, if you are able
• Added YouTube of Mayor's video address dated 3/19/20

See above for details.
3/18:
• Added more details on Jury duty/trials
• Added link to WHO COVID-19 mythbusters
• Added a link to Our Neighbor's Table spreadsheet of food/grocery resources for those in need
• Added a link to HelpNBPT with information about local businesses and their offerings.
• Added details on trash pickup and closure of recycling center, curbside leaf pickup, and delayed yard waste facility opening.

See above for details.
3/17:
• Added State Senator, State Rep statements
• Added National Grid Information – collections and shut-offs suspended
• Public athletic fields, courts, skate park, and playground closed
• Inspectional services (e.g. building, electrical) suspended for 2 weeks
• Cleared up emergency services vs non-emergency services for Police and Fire
• City staffing reduced
• Added information about 2GoPantry and Our Neighbor's Table for those needing assistance with food.
• Added information about trial court being closed

See above for details.






This information is pulled together from many sources and I'm doing what I can to keep it updated. You should contact any service you intend to use to verify its status as things can change quickly.